MPASS Ltd, in close collaboration with the Municipality of Astypalaia, has successfully revolutionized the concept of engagement and gamification through their groundbreaking platform, #energos_politis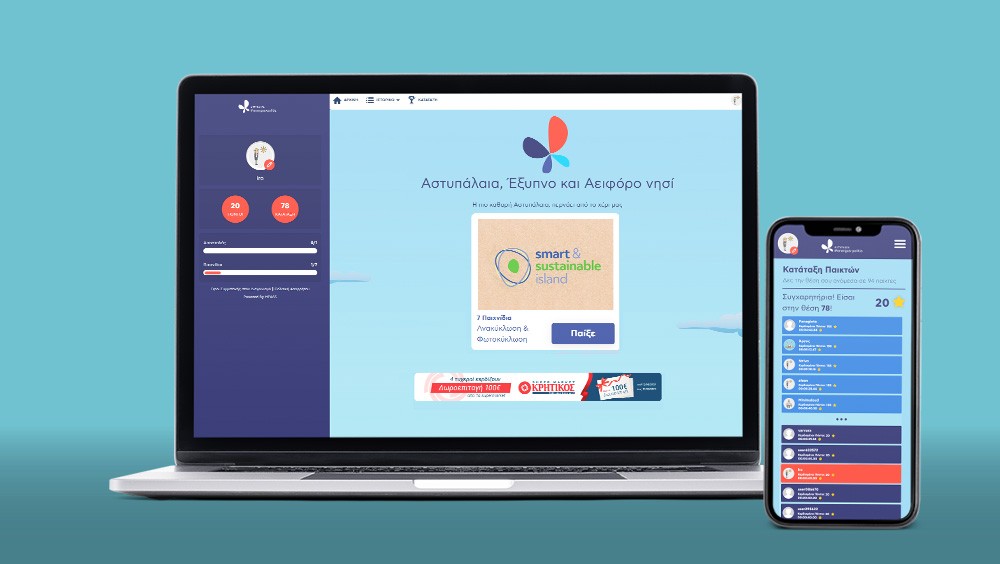 Astypalaia-Engagement & Gamification for Citizens participation
This remarkable achievement, driven by the active participation of users, propelled us to secure a coveted prize at the esteemed "Smart City Expo & Conference Awards 2023". The #energos_politis initiative is a dynamic online application built upon MPASS's unparalleled Engagement & Gamification platform, renowned for its exceptional customizability that empowers users to shape their experiences. The platform was skillfully tailored to cater specifically to the needs and aspirations of the Municipality of Astypalaia, placing the users at the forefront of the sustainability movement.
Making people part of the solution in a fun way
The primary objective of this collaborative project has been to foster a sense of ownership and empowerment among local residents and the general public, urging them to actively participate in the Municipality's initiatives for a "Smart & Sustainable island" program.
Through the initiative, users are not merely passive recipients of information, but vital contributors to a thriving community that embraces eco-friendly practices such as diverse forms of recycling (plastic, paper, glass), composting, and water conservation. Encompassing the collective responsibility to contribute to the island's functionality and long-term sustainability, the campaign's slogan, "A cleaner Astypalaia starts with us," signifies the indispensable role of user participation.
Upon entering the platform, users are warmly invited to register and become the driving force behind positive change. They receive timely notifications about new games and updates, enabling them to stay actively engaged and informed. By creating personalized profiles and embarking on immersive gameplay, users not only earn valuable points but also become the architects of their own journeys towards a sustainable future.
#energos_politis offers a diverse range of activities, including memory games, quizzes, videos, ranking lists, and a comprehensive history of previous actions, all designed to foster active participation. With every point earned, users become catalysts for progress and are eligible for exciting draws that offer significant prizes, further enhancing the importance of their contribution.
Improving user experience while playing
Additionally, the platform serves as a powerful tool for data collection through thoughtfully designed questionnaires. By actively participating in these surveys, users provide valuable insights about their educational backgrounds, habits, and overall satisfaction rates. This data fuels the continuous optimization and customization of the platform, ensuring that each user's experience is meaningful and tailored to their preferences. It is through the active involvement of users that the platform becomes a true reflection of their needs and aspirations.
Asty-pal Chatbot
Our company's continuous strive for innovation led us to enhance the #energos_politis platform by creating the virtual assistant 'Asty-pal Chatbot' for the Municipality of Astypalaia. 'Asty-pal' is an advanced NLP model with the ability to address the public's inquiries concerning recycling and electro-mobility in Astypalaia. Through it, users can stay fully informed about the environmental initiatives of their island at any moment during the day.
New and impressive features
Excitingly, MPASS has plans to introduce new features to the platform, aiming to elevate the user experience even further. These upcoming additions include the integration of a marketplace featuring discount coupons, effectively establishing a loyalty scheme benefiting both local and non-local businesses and users. Additionally, the platform will expand its game categories to include augmented reality games, virtual reality games, and 3D games, offering users a more immersive and captivating experience.
Brands that trust us
MPASS's remarkable platform has earned the trust of esteemed clients such as FraAllaince , AB Vassilopoulos, OPAP, Piraeus Bank, and numerous others who have experienced immense satisfaction with their services. 
By joining forces, we can foster a smarter, more sustainable future for Astypalaia and beyond.
Explore the interactive platform and access further information