MPASS in collaboration with the "All About Running" , developed an innovative chatbot service, the "Timekeeper", which has been created to assist runners and supporting a sports' event.
Through "mysocialpass" chatbot management platform, the "Timekeeper" service was parameterized.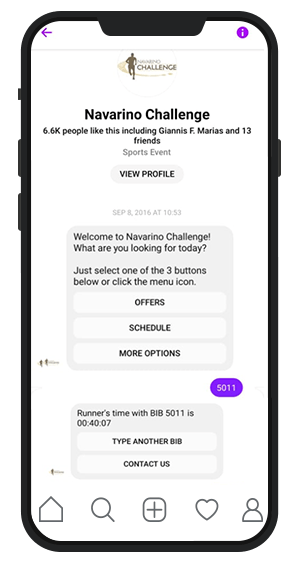 Firstly, to give runners the chance to get their official running time on their Facebook Messenger, by interacting with their racing BIB number.
Secondly, the "Timekeeper" service provided participants with a 24hrs exclusive service throughout the racing event by replying to questions regarding event's activities, time scheduling, location, parallel events, breaking news etc.
Additionaly, with this new service, MPASS and All About Running, brought together the classical experience of yearly racing events. Events such as, "Costa Navarino Challenge" and "Santorini Experience". Coupled with the most cutting-edge innovation for providing enhanced experience to participants from all over the world.
To sum up, the MPASS "mysocialpass" chatbot management platform was configured to design and deploy the participants digital flow on the "Timekeeper" service, to manage content and to be integrated with the racing BIB functionality.